Welcome to Barracuda MSP

Complete Managed Data Security for Business

MSP Email Security & Archiving
Essentials for Email Security – MSP provides continuous cloud-based protection against evolving email-borne threats with safeguards for your customers and their business.
With this advanced email protection solution, you can enable your customers to operate faster, safer, and more efficiently while protecting their business emails and data.
Only Barracuda protects against all 13 email threat types.

Play Introduction Video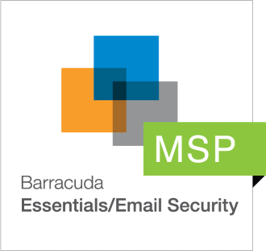 Barracuda MSP Firewall

Our subscription-based Cloud Generation Firewall provides secure, regulated and optimized access to your customer's data and applications by protecting against network intrusions, advanced threats, and data exfiltration all from one centralized management console.

Play Introduction Video

Barracuda MSP Backup

Barracuda Backup MSP appliance is an all-in-one, subscription-based solution that simplifies data backup and recovery from advanced threats, disasters and human error. Backup locally and replicate to cloud for the ultimate data security service.

Play Introduction Video