Over $12B has been lost to spear phishing and account takeover.
Targeted attacks carry no malicious payload (URLs or attachments) and bypass email gateways. Sentinel uses AI to outsmart the attackers and protect your business and data.
Block threats already in your inbox.
Traditional email filters only filter incoming emails. Sentinel integrates directly into Office 365 to find threats inside your mail system that security gateways can't see.
Stay a step ahead of attackers with AI-based threat detection.
Sentinel learns your business's unique communication patterns to detect personalized fraud in real-time to protect against business email compromise and account takeover.
Stop wasting time managing static security rules.
Sentinel is truly a zero-administration tool. It works silently in the background to block fraudulent emails from reaching users with no impact on performance.
Sentinel detects threats that email gateways can't.
Sentinel detects threats that traditional email security systems can't. It integrates directly with Microsoft Office 365 APIs to detect attacks coming from both internal and external sources. It uses artificial intelligence to detect signs of malicious intent and deception within every email with virtually no IT administration required.
Protect your business against account takeover
Corporate Account Takeover presents a significant new threat to business. Hackers gain access to corporate email accounts through stolen credentials and use them to launch subsequent targeted attacks, internally and against external targets. Account takeover or attacks that originate from these accounts are almost impossible to detect since they don't leverage impersonation techniques—they come from a legitimate account and appear to be from a trusted source. In fact, traditional email security solutions don't even observe internal traffic and have no way of stopping an attack originating internally.

Barracuda Sentinel detects both account takeover attempts and attacks launched from compromised accounts. By analyzing both historical and inbound data Sentinel is able to identify behavioral, content, and link-forwarding anomalies within your organization, and to flag and quarantine fraudulent emails. It is also able to prevent attempts to compromise employee credentials by automatically blocking targeted phishing emails that try to harvest employee passwords.
Prevent
Detect
Remediate
Protect your reputation and stop domain fraud with DMARC reporting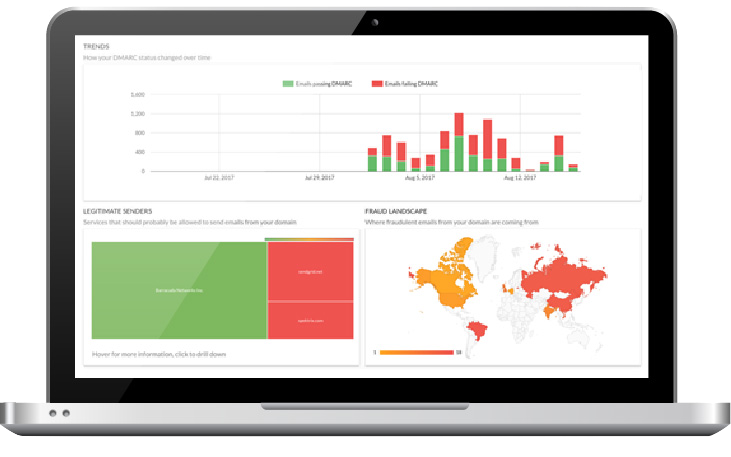 Domain spoofing and brand hijacking are common techniques used by hackers in social engineering attacks. They can be used not only to target your employees, but also your customers, external partners, and other third parties that trust your brand. These impersonation attacks can lead to financial losses, as well as damage to your brand reputation.

DMARC (Domain-based Message Authentication Reporting and Conformance) authentication and enforcement can stop domain spoofing attacks. Many organizations today struggle to set up and enforce DMARC on their own, leaving their organization and partners vulnerable to impersonation attacks. With an average organization having dozens of email senders that send email on their behalf, companies need to have granular visibility into all traffic that is using their brand to effectively implement DMARC standards.

Barracuda Sentinel provides complete protection from email domain fraud through DMARC reporting, analysis, and visibility. This helps organizations to set up DMARC enforcement properly and reduce the potential of false-positive enforcements such as blocking legitimate email or misidentifying legitimate sender.
Automate incident response and get access to threat insights.
No email defense can protect against every email threat one hundred percent of the time. And when malicious email ends up in a user's inbox, you need to address the problem quickly. Slow, inefficient manual incident response processes too often allow the attack to spread further.

Barracuda Forensics and Incident Response automates incident response and provides remediation options to address issues faster and more efficiently. Admins can send alerts to impacted users and remove malicious email directly from their inboxes with a couple of clicks. Discovery and threat insights provided by the Forensics and Incident Response platform help to identify anomalies in delivered email, providing more proactive ways to detect email threats.
Stop Targeted Attacks with AI

Stop Account Takeover with AI


Domain Fraud Prevention


Flexible API-based Deployment